This assignment describes patient education for an ESRD patient and explains the type of resources available for ESRD patients for nonacute care and the type of multidisciplinary approach that would be beneficial for these patients.
Health History
Mr. C., a 32-year-old single male, is seeking information at the outpatient center regarding possible bariatric surgery for his obesity. He currently works at a catalog telephone center. He reports that he has always been heavy, even as a small child, gaining approximately 100 pounds in the last 2-3 years. Previous medical evaluations have not indicated any metabolic diseases, but he says he has sleep apnea and high blood pressure, which he tries to control by restricting dietary sodium. Mr. C. reports increasing shortness of breath with activity, swollen ankles, and pruritus over the last 6 months.
Patient Education for ESRD Patients
Patients with end-stage renal disease (ESRD) face unique challenges due to the complexity of their condition. It is important for these patients to understand the importance of continuing medical care and lifestyle modifications in order to maintain adequate health. Patient education is a critical component in helping ESRD patients manage their condition successfully.
In terms of nonacute care, patient education should focus on providing resources that will help ESRD patients understand their condition and how to manage it properly. This includes information about diet, exercise, medications, treatments, mental health support, resources available from local organizations or health authorities and other topics related to living with ESRD.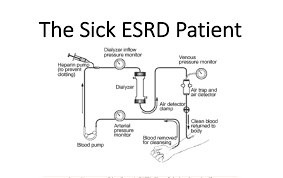 A multidisciplinary approach is ideal for patient education for ESRD patients. This approach should include members of the patient's healthcare team such as nephrologists, dieticians, social workers and mental health professionals who can provide advice on lifestyle modifications and other practical aspects of living with ESRD. A multidisciplinary team can also provide psychological support to help patients cope with the emotional impact of their condition.
In addition to providing resources for nonacute care, patient education should focus on helping ESRD patients make informed decisions about dialysis treatment options. It is important that they understand all available options and be able to discuss them in detail with their healthcare providers so that they can make an informed decision about which type of treatment best suits their individual needs.
From their functional health patterns, patient education should also include teaching ESRD patients about self-care practices that they can do at home to maintain their health. Self-care behaivours such as monitoring and recording vital signs, taking prescribed medications properly, and keeping a log of symptoms can help them remain engaged in their own care and make the best decisions for their overall health.